Software that Saves the Planet: The Future of Energy Begins Here
Empowering a Sustainable Energy Future: Software Development for Renewable Energy, from Automation to Full Control. Investing Our Expertise in an Environmentally Independent Future.
Specialization
Photovoltaic (PV)
Navigating the multifaceted challenges encountered by solar/PV enterprises, our focus is on crafting user-friendly solutions.
We develop intuitive software systems for the solar energy sector, aiding businesses in superior project management, insightful data analytics, and enhanced asset control, fostering a seamless transition towards greener energy solutions.
Wind Energy Management
Managing a wind park entails navigating a maze of intricate and time-intensive tasks, ranging from continuous monitoring to addressing connectivity issues and estimating equipment costs. We specialize in creating bespoke software solutions designed to align with your business needs, facilitating a seamless and automated management experience that eliminates operational hurdles, ultimately leading to improved efficiency and productivity.
Hydropower Energy Insights
Ensuring optimum performance and robust functionality in hydroelectric power plants requires real-time, vigilant monitoring. Our expertly developed, tailor-made software is adept at aggregating data from remote device APIs, presenting it in an intuitive dashboard endowed with critical insights. This empowers you to act based on precise, actionable information, fostering informed decision-making and enhanced operational effectiveness.
Geothermal Energy Management
Harnessing the Earth's natural heat, our specialized software solutions optimize geothermal energy production. From efficient resource allocation to real-time monitoring, we empower geothermal projects for maximum sustainability and performance.
Services
Belichberg specializes in cutting-edge software solutions for the renewable energy sector. We offer tailored services, including real-time data analysis, predictive maintenance, and seamless IoT integration, ensuring your energy systems operate at peak efficiency. Committed to the global mission of sustainability, we partner with clients, providing innovative tools that drive the renewable energy revolution forward.
Process Digitalization
We collaboratively analyze your business processes, formulate operational specifications, and craft efficient workflows.
Your business undergoes a seamless digital transformation, optimized for enhanced efficiency, accuracy, and innovation. We become your strategic partner, ensuring your software aligns perfectly with your renewable energy goals.
Data collection
Getting data from various sources such as sensors, data loggers, and other devices, ensuring comprehensive data capture
Your business gains real-time insights into energy production, consumption patterns, and system performance, enabling proactive decision-making and strategic planning.
Data storage
Secure cloud-based or on-premise data storage solutions, guaranteeing data integrity, accessibility, and privacy.
Your data is safeguarded, allowing secure storage, easy retrieval, and seamless sharing. This ensures compliance with industry standards and regulations.
Advanced Analytics
Utilizing advanced analytics techniques to extract meaningful insights from diverse datasets.
Your business gains valuable insights, identifying patterns, trends, and areas for optimization. This knowledge drives informed decision-making, enhances operational efficiency, and maximizes your renewable energy potential.
Visualizations
Creation of intuitive interfaces including detailed reports, interactive dashboards, and user-friendly web platforms.
Complex information is transformed into accessible formats, allowing for a quick understanding of performance metrics and key indicators. This enhances transparency, communication, and strategic planning within your organization.
Development
Web app development
Crafting intuitive and responsive web applications, we redefine user experiences. Our web solutions seamlessly blend aesthetics with functionality, ensuring your renewable energy projects have a strong digital presence and user engagement.
Software Development
Our core strength lies in software development. We create bespoke solutions tailored to your renewable energy needs. From conceptualization to deployment, our software development expertise drives innovation, efficiency, and sustainability in your projects.
Mobile Development
In the mobile realm, we design and develop cutting-edge applications. Our mobile solutions empower users on the go, providing access to vital renewable energy data and services at their fingertips, enhancing accessibility and efficiency.
Devops & Cloud
With DevOps expertise, we streamline your development and operational processes, ensuring seamless integration and rapid deployments. Leveraging cloud technologies, we optimize scalability, security, and performance, enhancing the overall efficiency of your renewable energy solutions.
Data science
Harnessing the power of data, our data science solutions provide actionable insights. Through advanced analytics and machine learning, we transform raw data into valuable information, enabling informed decision-making and strategic planning for your renewable energy initiatives.
IoT (Internet of Things)
In the realm of IoT, we connect devices, sensors, and systems, enabling real-time data collection and analysis. Our IoT solutions enhance the efficiency of renewable energy infrastructures, optimizing energy usage and ensuring seamless monitoring and control.
Portfolio

Solar energy
Report Flow
Design and develop a platform that will manage reporting generation for clients based on several input sources

Wind energy
Ecowind
Access control system for maintenance of green energy plants

Video surveillance
Shield Mesa
Shield Mesa is a surveillance management platform that receives data from the video control points, analyzes it, and notifies the responsible staff in case of any emergencies at the facilities.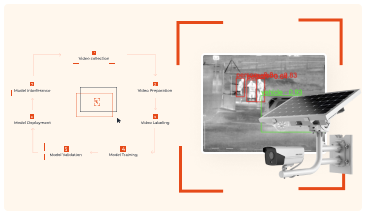 Video Object Detections
Perun Gaze
Perun Gaze is a service implemented on the surveillance platform. This service helps administrators to identify third-party objects and people in guarded areas using surveillance cameras with infrared or thermal sensors.

Alarm system
Mr Hill
Mr. Hill is an IoT onsite light and sound alarm system with cloud management that prevents trespassing at the facilities. It does so by sending out alarming light and sound signals from the device, which is operated remotely by the responsible staff.

Social network
The Club
Design development of a mobile app for a community of entrepreneurs.

QR code management
Pintotag
Development of a management platform for generating and tracking dynamic QR codes, also integrated ability to create dynamic forms.
What our clients say

Custom Software Development for Security Service Company
Thanks to Belichberg GmbH's work, the client has reduced false alarms, which has given an advantage to their business. They constantly communicate to review every process and ensure the project's success. The team also praises their ability to find solutions to every situation.

Custom Software Dev for Photovoltaic Systems Company
Belichberg GmbH is able to successfully deliver a fully-functional and user-friendly web-based platform, much to the client's delight. The team continues to lend their services for the product's improvement, and internal stakeholders are impressed with their strict adherence to timelines.
About Us
We aren't just a software company; we are architects of a greener, more sustainable future. Nestled in this eco-friendly city, our inspiration flows from Vienna's commitment to green energy and sustainable living.
Our mission is simple: to empower businesses with technology that not only meets their needs today but also paves the way for a sustainable future.

Every line of code we write and every solution we develop embodies our dedication to environmental harmony. Join us in this transformative journey as we redefine what's possible in the realm of renewable energy.
We are members of the Austrian Federal Association of Photovoltaics
Our vision
Transforming businesses through digitization not only propels exceptional companies to offer superior services but also enhances the experience of employees, customers, and stakeholders, particularly in the renewable energy sector, where such advancements lead to sustainable and impactful growth
Our mission
Belichberg's mission, infused with a commitment to continuous improvement, is to elevate the efficiency, performance, and success within the renewable energy sector. Through meticulous analysis of business objectives and close collaboration with companies, we strive to discover and implement innovative solutions that advance the frontier of renewable energy technology.
Our values
We deliver incremental, actionable solutions at each stage of the project lifecycle, ensuring a continuous advancement toward sustainable goals.
Our passion for development drives us to seek perpetual improvement in renewable technologies.
Leveraging our extensive experience, we adapt and innovate with each initiative, contributing to the growth of the renewable sector.
Trust is the cornerstone of our partnerships; we engage with stakeholders who are as committed as we are to a visionary and sustainable future.
Contacts
Pater-Schwartz-Gasse 11A
1150 Vienna, Austria

+43 (660) 9151 003
now+web@belichberg.com